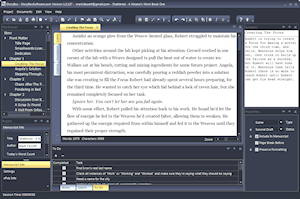 The best and easiest way to write a novel and prepare it for Indie publishing via Amazon, Barnes & Noble and others!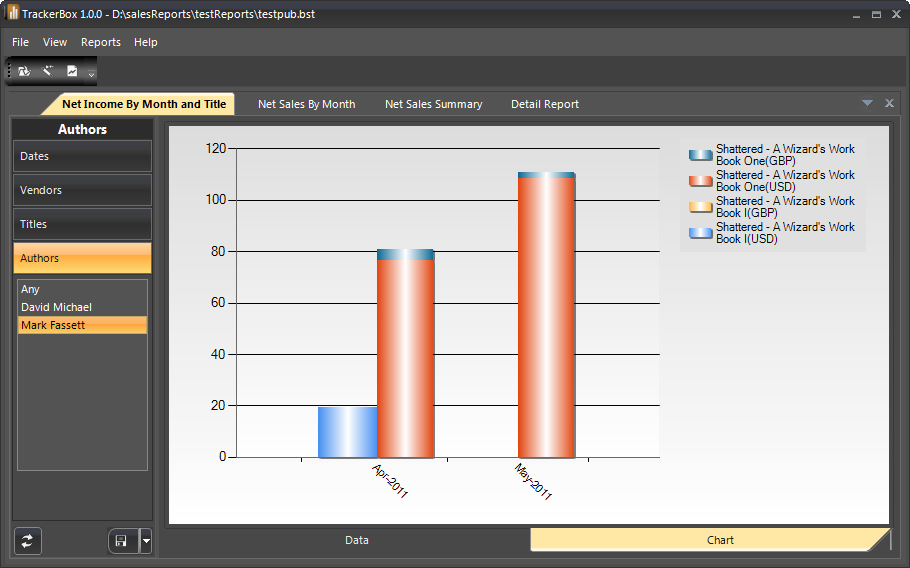 The ultimate software for your ebook sales tracking and charting needs. Works with all the major sites (and some minor ones, too).
TrackerBox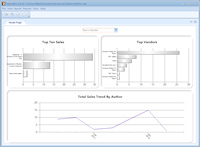 Do you spend hours of time each month copying your sales report data from your book sales into spreadsheets? Worse, do you spend a pile of money each month to pay someone to do it for you? Have you ever found a mistake in your copied data?
I'd like to intruduce you to TrackerBox, the time saving, headache reducing software that will help you keep track of all of your book sales, no matter where they are sold. Instead of having to download the report, open it in your spreadsheet of choice, and copy the data by hand into a spreadsheet that you had to spend hours designing, you could just download the report and click Import on TrackerBox, and see your sales data in as little as a few seconds. Amazon, Barnes & Noble, Apple, Kobo, they're all supported.
It saves even more time if you have multiple pen names, or authors. Do you need to produce a sales report for a co-author? You can do that quickly with exports of the reports to xls, csv, pdf and html.
Self publisher or small publisher, TrackerBox will save you time and money.
The Highlights
Avoid messing with spreadsheets and save yourself hours of time each month by importing sales reports from these retailers and distributors:

Amazon KDP (from 2009 forward)
PubIt
Kobo Writing Life
Apple iBookStore
Smashwords
CreateSpace
Lightning Source
All Romance eBooks
DriveThruFiction.com
Overdrive
Amazon Vendor Central
Draft2Digital

Support multiple Authors and Pen Names
Easily combines sales for books that have title variations from vendor to vendor
Track sales for every title and chart your sales and income progress
Import publisher royalties and other sales, either through a easy to use dialog or a specially designed spreadsheet that is simple to fill out.
Group and sort reports by any column
Apply parameters to the reports, including selecting multiple titles, authors, and/or vendors
Export reports to XLS, PDF, CSV and HTML
Run multiple reports and see them side by side
Seven distinct themes
Screenshots
"A godsend when it comes to tracking sales from Pubit, Amazon, Smashwords, Apple, CreateSpace, etc, all in one place without formatting or messing with spreadsheets."

- David Dalglish

You can use our support site to enter any bugs or issues or feature requests you find. You'll be able to track the progress of your issues there, too. There are menu items under "Help" in TrackerBox that will take you there, too.
StoryBox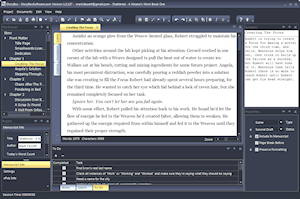 Hi, I'm Mark Fassett, and I'd like to introduce you to StoryBox.
StoryBox is Novel Writing Software I wrote to take the pain out of organizing and writing novels.
A Quick Tour
When you first start StoryBox and create a new project, you'll immediately see the project panes on the left, including the File Drawer, which is where you manage all of the scenes, chapters, characters, locations, items, and any other documents you might want to use in creating your novel.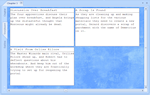 Click on a document, and it opens in the document window, and you can start typing right away with no fuss. Or if you wish, you can add the chapters and documents you think you'll need, organize them and use either the storyboard or outline views to flesh out your novel before beginning to write.
You can keep notes for each document in your project, use tags to tag your documents for quick reference, and use the ToDo list to keep track of your tasks.

StoryBox has a full screen typing mode to let you work without all the visual distractions you might have on your desktop. If you prefer the normal mode, you can hide and rearrange any of the tool panes that you wish. You can even have several documents open at one time and arrange them however you like.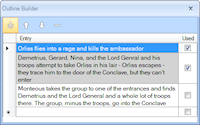 A quick and dirty outline builder will let you easily create and add new documents, or insert the text of the outline into existing documents.
StoryBox includes a Thesaurus and SpellChecker. The SpellChecker let's you add words to a global dictionary, or to project specific dictionaries, which is perfect for those made up names that you don't necessarily want applied to all of your projects.
StoryBox can import from plain text files, or RTF (which any word processor can generate) and exports to the same formats as well.
Try StoryBox For Free
Try it out. It's free to try and use for as long as you need. The trial never times out, so there's no worries about being locked out from your project if you can't afford to pay for it within 30 days. I want you to be as comfortable as possible with your purchase BEFORE you buy. Take your time. If there's something you don't like, report it to me and see what happens. I can't guarantee I'll add every feature you want (my current list of features to add for 2.0 stands at 22 items), but I'll certainly consider every single one of them.
I update StoryBox frequently as I think of new ways to make writing and editing a novel easier. There is a button right on the toolbar that lets you file a problem report that I see and I try to resolve them as quickly as I can. I have turned around bug fixes in as little as six hours, and if it's something that's keeping you from working, it's my highest priortiy.
Mark Fassett
StoryBoxSoftware.com

You can use our support site to enter any bugs or issues or feature requests you find. You'll be able to track the progress of your issues there, too. There are menu items under "Help" in StoryBox that will take you there, too.