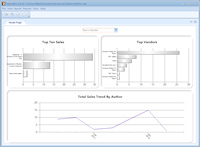 TrackerBox requires Windows XP SP3, Vista, 7, 8, or 8.1 and version 4.0 of the Microsoft .Net Framework to run. You can download the .Net Framework from Microsoft if you do not have it already. If you are running Windows XP, you will need to install Service Pack 3 and .Net 3.5 before installing .Net 4. You can get the service pack from Windows Update.
Download the .Net 4 installer here.



In case you haven't seen it already, here's the feature bullet list:

Import sales reports from without having to manipulate them in a spreadsheet

Amazon KDP
PubIt
NOOK Press
Kobo Writing Life
Apple iBookStore
Smashwords
CreateSpace
Lightning Source
All Romance eBooks
DriveThruFiction.com
Overdrive
Amazon Vendor Central
Draft2Digital
Google eBooks
ACX
BundleRabbit
Lulu
XinXii

Support multiple Authors and Pen Names
Track sales for every title and chart your sales and income progress
Group and sort reports by any column
Apply parameters to the reports, including selecting mulitple titles, authors, and/or Vendors
Export reports to XLS, PDF, CSV and HTML
Run multiple reports and see them side by side
Note for Avast Users
Avast once thought a component of TrackerBox was a piece of malware. It was a false positive, confirmed by Avast. If you are still having trouble, make sure you get the latest update from Avast.
Free 45 day trial
The download comes with an unrestricted 45 day free trial. When you purchase TrackerBox, you will receive a key that will allow you to continue using it for as long as you like.
Latest Version

Revamped the alias managers to make them easier to use, especially with large numbers of titles.
Fixed some bugs with the new KDP reports
Added support for recording Borrows and Pages Read in the TrackerBox Import format (you can use B or PR, respectively, in the format column to indicate those types of sales records).
Added support for the latest versions of the Smashwords Quarterly Reports.
New Title reconcile window now does a better job of guessing title aliases
New Title Reconcile Title Alias list now lets you type the first part of a name and provides suggestions
The author field on the New Title Reconcile window will now change to match the selected title alias if the author is not provided by the vendor report
New Title Reconcile Window now loads quicker (especially noticable with large numbers of authors and titles).
The Net Income column in the TrackerBox Imort Format sheet no longer requires that it be a numeric format. It may now also be a general string format.
Previous Version Release Notes