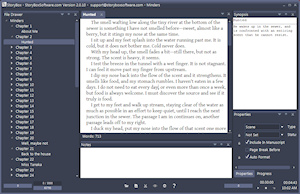 Requirements
Windows XP Service Pack 3 or later (Vista/7/8/10)
StoryBox requires the Microsoft .Net 4.0 Framework to run. You can download this from Windows Update if you do not have them already. On Windows 7, when I tried to run StoryBox without 4.0 installed, it notified me and provided a link to download the updated .Net. I do not know if this will happen on Windows XP or Windows Vista.
On Windows XP, .Net 4.0 requires that you have service pack 3 installed.
Download Microsoft Windows XP Service Pack 3
Please, before installing a new version, back up your existing project files, just in case. I do everything I can to make sure nothing goes wrong, but I'm human, and mistakes are possible.
Free 45 day trial
The download comes with an unrestricted 45 day (non-consecutive) free trial. When you purchase StoryBox, you will receive a key that will allow you to continue using it for as long as you like.
Latest Version

Version 2.0.16
05/12/2016
Improved loading speed, memory usage.
Fixed minor issues with many of the themes.
Using the Recent Projects list to open a project that has been moved or deleted will now give you a warning and remove the missing project from the list.
The backgrounds for additional monitors when in full screen now update when Custom Color or image layout is changed.
[email][/email] tags are now removed from RTF exports
Fixed tool tips for the File Drawer
Fixed excessive flashing when switching to full screen while having a background image set
Improved the draw speed of the background image in full screen
Fixed a bug that caused an error message when emptying the trash
Story selector in the progress tool window now follows the currently active story as determined by the current document. You can change this to see other story information, but when you switch stories, it will change to the new story.
You can now tab through the New Project dialog.
Changes From 1.5 to 2.0
Moved menu to center bottom screen
Changed menu items from text to icons
Word count bars have been added to the new menubar. They can be toggled on and off individually through the MenuBar right click menu. The "story" wordcount bars will display the wordcount of the currently active story (clicking on a document that belongs to a story switches the active story to that story).
All of the tool windows can now be opened and docked within full screen mode, allowing for switching between documents, viewing notes and synopsis, etc...
View tabs are now icons instead of text
View tabs are hidden on scenes when the scene does not have any child documents
Characters count display on the document window has been removed
The zoom slider on the document window has been removed. Holding Ctrl-while scrolling the wheel on your mouse will zoom the text windows.
Center Screen typing is now available in the windowed mode
The typewriter sound is now available in windowed mode.
Added shortcut keys Shift-Alt-Left and Shift-Alt-Right to move forward and back sequentially through the documents in your project
Added "Insert Hyperlink" to the document right-click menu
Added "Insert Macro" to the document right-click menu. This has a submenu with all of the macros
Added "Insert Template" to the document right-click menu.
Added view options to the right-click menu on a picture document
Image lists (in the insert Image Link menu and in the Cover and Scene Separator dropdowns) are now sorted by Story with images from the currently active story at the top
There is a new option in the preferences to automatically create a scene document when you create a new chapter. This is on by default.
Now does auto capitalization in the situations where it's possible to determine what is intended.
Items in the "Add To" context menus are now sorted by the name of the thing you're looking for (not the whole path, just the last part of it).
Themes have been updated with larger fonts and other tweaks to make them more accessible
Tablet Dark theme has been added
Mac & Cheese theme has been added
Fixed arrow directions for Carbon, Midnight, Tablet Dark, and Emerald themes in the File drawer tree so that they point in the standard direction
Added the ability for imports to an existing project to import more than one file at a time
Importing from RTF now trims whitespace from the beginning and end of a scene
Indents now adjusted to match StoryBox defaults when importing from RTF files
Importing now uses "[chapter]" instead of "- Chapter -" to split the chapters apart. This will be getting some more options, eventually
Added a new switch for epub/mobi formats in the Exporter called "Open To First Text". This will cause most e-readers to open to the first Act/Chapter/Scene document that is encountered. This seems to be becoming a standard, though some e-readers don't respect it. The default is on.
Title and Author have been removed from the front of export on plain text and RTF formats when there is a blank Story document. They remain in ePub format, as the Story document is the intended first page of an ePub document, and as such, should essentially be the title page.
Fixed: ePub export now passes latest epubcheck validation
Centered items are now stripped of any indents when exporting to ePub/mobi so that they are truly centered on the device. If you hate this, let me know and I'll make it an option, but it should save you from having to turn off auto format where you have items you want centered, since you won't have to worry about the indent.
Exporting to RTF no longer puts an extra empty line after a pagebreak
ePub export now centers properly in Nook reader (and, presumably, other readers based on the same software)
Adjustments made to [br] - it no longer gives double
tags on some readers.
No longer cuts Kindle prepared indents in half (this was originally cut in half for older generation kindles that appeared to double the size of the indents and has been fixed in recent generations/updates)
No longer adds an extra linebreak after a scene separator for Kindle prepared exports
Selecting mobi format in the export no longer shows the Prepare for Kindle option, as modifying that option has no effect on mobi export
[br] tag now gives a proper line break on tested readers (kobo, kindle, nook, iBooks)
All wordcount settings and progress bars (except for the ones you can see on the menu bar, which are duplicates) are now combined into a single tool window called "Progress"
Story properties ( UID/ISBN, Cover Image, Scene Separator Image) are now in the Document Properties window, and will be available when you click on a story document.
ePub Info has been removed from Project Settings - the Publisher textbox was moved to Manuscript Info
Preserve Formatting has been changed to Auto Format.
Fixed an error that occurs when you delete the wordcount target from the wordcount target textbox, and hit enter without typing anything else
Added an option in the preferences to change the user template directory
Added 'Export to HTML' to the outline view context menu
Added 45 day, non-consecutive trial period. Editing will be disabled after StoryBox is opened on 45 different days. Exporting is not disabled.
Fixed: Bug that caused the wordcount statistics page to report wrong values if it was left open when closing the project
Fixed a bug that could cause a project to have the version reset if a file I/O error occurred during load
Better handling of a rare exception when a document might be open already and it tries to find that document and can't. You may be forced to restart, but it shouldn't result in data loss from trying to open it and failing
Changed the layout of the preferences window
Made Word Usage page reflect the currently active story (the story for the document that is currently open)
StoryBox 2 can now run as a 64bit application on 64 bit computers
Installer now installs to the proper directory on 64 bit computers
Installer now includes certain required dll's for machines that do not have them installed. This does not include the .Net runtimes or XP Service Pack 3 - those still need to be downloaded separately
Installer now tries to close StoryBox if StoryBox is running when the installation is started
Added a Lookup item to the right click menu in the document view. You can now look up items on Dictionary.com, Google, and Wikipedia
Changed the trash so that it only shows the outline view. If you have any text in the Trash document, copy it out to somewhere else like the Notes tool, as it will become inaccessible after this upgrade.
Added New Project form that lets you set the author, publisher, and title of your project
Added Author and Publisher fields to the Import wizard
Fixed the positioning of the Import Wizard dialog
Fixed File Drawer expansion arrow directions for the Black theme
Changing the document type for a document will now cause it's properties to be set to the new document type's default settings
Removed the trash document type from the default view list in the options
Right clicking on the outline view in the trash document now shows an "Empty Trash" item instead of "New Document" items
Outline View of Trash now updates once the Trash has been emptied
Export to HTML has been removed as one of the options for the Trash outline context menu
Export, Import As Child, and Import As Sibling have been removed from the File Drawer context menu when right clicking the Trash
Document types of Trash, Item Folder, Character Folder and Locations Folder can no longer be modified (even before, modifying did not change behavior, this just elminates the confusion as to why they don't change)
Document Properties are now disabled when you open up the Trash view document
Fixed: Buy buttons now disappear without having to restart when you verify your registration
Fixed the File Drawer expansion arrows for the Midnight theme
Fixed a scenario where the trash outline wouldn't update when an item was dragged out of the trash.
Clicking the Preview button/menu item will no longer cause an exception when there are no documents in the selection that are marked as "Include In Manuscript"
Import Picture menu context menu item on the picture view is now filtered to show only supported image types (pnt, bmp, jpg)
You will now get a more informative error message (instead of a crash dialog) if you try to open an unsupported file type when importing a picture
Added scrollbars to the picture view when actual size picture is greater than the visible size of the window.
Active Document Selection Menu (next to the document tabs) now displays the documents in the order the tabs appear instead of by the order of when you opened them
Made changes to the default Character, Item and Location templates.
Fixed references in the code that referred to the old default template folder instead of the new location (which is in the common app data folder). This fixes a couple different bugs.
Fixed an error that could cause an exception when a document window tried to load while an existing document window has the same internal id (rare)
Using Add->New Character (or Item or Location) will now place the new document as a child of the currently selected document just like the other document types, as long as they are within the right tree (character is in the Characters tree, for instance). Otherwise, they will be placed in root of the proper tree
Using Add and Add Sibling on the File Drawer Context menu will now show Character, Item, or Location options if the root folder is Characters, Items, or Locations, respectively, regardless of the parent document. This means you can use regular documents as folders, and they won't show up in the Add To... lists
Fixed display names in the Add/Remove buttons of the toolbar for the Align Left, Align Center, Align Right, and Bug report buttons
Added keyboard shortcut Ctrl+Shift+L to make selected text lowercase. Ctrl+Shift+U makes selected text uppercase
Added [ri][/ri] tags so that you can set raised initial caps for ebook exports. They will not affect RTF export.
Added Ctrl+Shift+R shortcut to apply [ri][/ri] tags around the selected text
StoryBox no longer deletes mobi files that get created by KindleGen when there are errors in the KindleGen process.
StoryBox will now detect if Calibre is installed, and if it is, will give you the option of using Calibre to convert to .mobi format (it currently uses default options)
You no longer need spaces around the [chapter] tag for the import to separate the chapters correctly
A mesagebox about a missing [/url] tag during export no longer pops up behind the export window
Importing as a sibling now puts the documents in between the document you selected and the one right after it, instead of at the end
Added a "None" option to the Document context menu under Format->Indent.
Added a backup on project close feature. This feature will eat harddrive space, especially if you are putting lots of images in your projects. You can turn it on and set the backup folder in the Preferences.
Added a countdown timer with an alarm. You can hide and show it from the Configure->Menu Bar->Show Countdown Timer menu.
Fixed a bug that could cause a saved version to not contain the latest typed text or other changes that occured since the last auto save
StoryBox now saves document cursor position/selection when closing project documents
Fixed application of text styles (bold, italic, etc...) so that the behaivor matches industry standard behaviors.
Removed the light gray rectangle around the menu buttons on the Midnight theme
Fixed the problem where the currently active theme menu item would not be checked when StoryBox loads up
Added Session Wordcount and Timed Wordcount indicators to the menu bar
Drastically improved the speed at which StoryBox shuts down
Added a Menu Bar preferences page. It sets the items on the Menu Bar for the current mode (normal or full screen).
Updated the help files so that they match the new StoryBox 2 functionality
Fixed the word count target editors so that they all work the same.
Added a menu item on the Project Tags context menu. Right click a tag, and you can add it to the existing document.
Tags are now sorted alphabetically
Searching Tags via the search button on the tags window now only searches tags and not the other document parts
Rearanged the order of the menu items on the View menu
Removed the "Forum" link from the help menu. The forum was hardly used and a spambot flooded it. It makes me sad, but I don't have the time to kill a thousand pieces of spam every week.
Fixed the Global Tags grid so that it is not disabled when there is a project open, but no documents are loaded.
Document tags grid is now cleared when there is no active document
Tags Search button is disabled when there is nothing to search on, now
Fixed titlebar text so that it is updated correctly when the registration information is verififed
Previous Version Release Notes